This clinic is suitable for players aged 8 to 19 years with physical disabilities. Participants will learn how to play wheelchair tennis. No previous experience required. Equipment (racquets, balls and sport chairs) will be provided.
Coaches' quotes
"Coaching wheelchair tennis goes beyond just teaching tennis. The experience of seeing how the players are able to connect to the ball is amazing. The smiles and sense of accomplishment that shows on their faces are priceless. But there is another dimension; wheelchair tennis is such a good vehicle to connect so-called "able-bodied" coaches/volunteers with disabled persons – it opens a new doorway for the human spirit."
– Albert Fong, Little Aces Mississauga, Community Champion –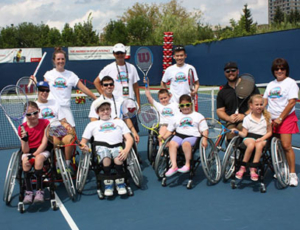 From the get-go, the strategy of our initiative is inclusive: tennis is a sport for both able-bodied and disabled bodies. In 2012, Mississauga Little Aces advanced into wheelchair tennis for kids as well, as we have started a wheelchair tennis program for youngsters with physical disabilities. This program currently runs three times a year, in the Fall, Winter, and Spring, at the Ontario Racquet Club.
We also integrated a wheelchair player in the Minor League in June of 2014.
For the Winter 2022 Program Guide, click here.